About us
About Perfect
Perfect specializes in development and consultation services mainly in the banking sector.
Our company
We run all kinds of IT services that vow your success
22Years' Experience in IT
Learn More About Our Success Stories
Perfect Software Solutions is the leading firm in Kerala providing tech consultation and development services for a wide range of industries, with over two decades of traction. We began as an application development and consultation service to financial institutions during the turn of this century. Our growth over the last 22 years has been monumental, thanks to our team of software development experts who have served over 1000 clients across industries.
We are Kerala's biggest software company and experts in banking and financial products including problem-based solutions for cooperative banks. We exclusively provide an omnichannel model of online, mobile, and telephone banking. In the new age of extensive digitalization and automation, banks look forward to implementing IT solutions for hassle-free operations.
Our unmatched value system motivates us to identify and rectify problems without the multifold rural concerns and values. The core team at Perfect is motivated to design workflows that ensure a smooth transition to the future.
Resources
Get a copy of the brochure
Perfect Software Solutions pvt.Ltd.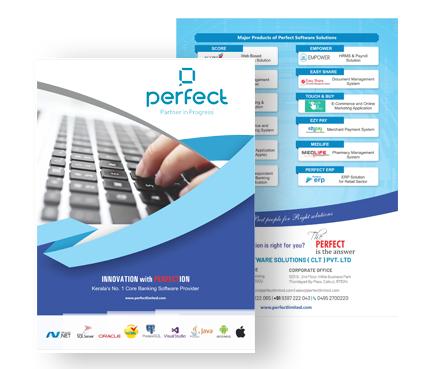 We excel in delivering optimal solutions.
Highly Professional Staffs
Having obtained the official & formal training in IT technology and technical fields, our staffs know more than what they show.
Product Engineering & Services
Develop and propose product improvements through periodical and accurate testing, repairing & refining every version.
Quality Control System
It's more than a responsibility but a guarantee from us to gain customer trust with a highly reliable quality control system.
Information Security Management
Information security has been a rising issue lately due to a series of scandals from big companies, rest assured, we're here.
Core Banking Installations in Co-operative sector
Installations in the co-operative banking sector
Testimonials
How our services bring about success
By teaming up with perfect and using their technological expertise and innovative ideas, we are able to transform our bank to one of the top Co-Operative banks in Kerala. We are using cutting-edge technology and value-added services to serve our customers 24Hrs a day, 365 days a year

M.PURUSHOTHAMAN
Secretary,Mannarkad rural service Co-op Bank.
As the first customer of perfect in Co-Operative banking, it is a pleasure to be associated with them in the growth of the bank. SCORE – Smart core banking is a highly matured and advanced CBS, which helped us to get 100%customer satisfaction. It helps us to get focus on our customers and introduce new schemes and products within a short time.
MONCY VARGHEESE
Secretary, ulliyeri service Co-op Bank
Perfect's retail solution had enabled my company to transfer from a local player to a global player. I can manage and administrate my software from anywhere in the world and know the status of my sales, stock and other necessary details. Thanks to perfect for wonderful software.
ABDEL AL ROSY
Decora Kuwait